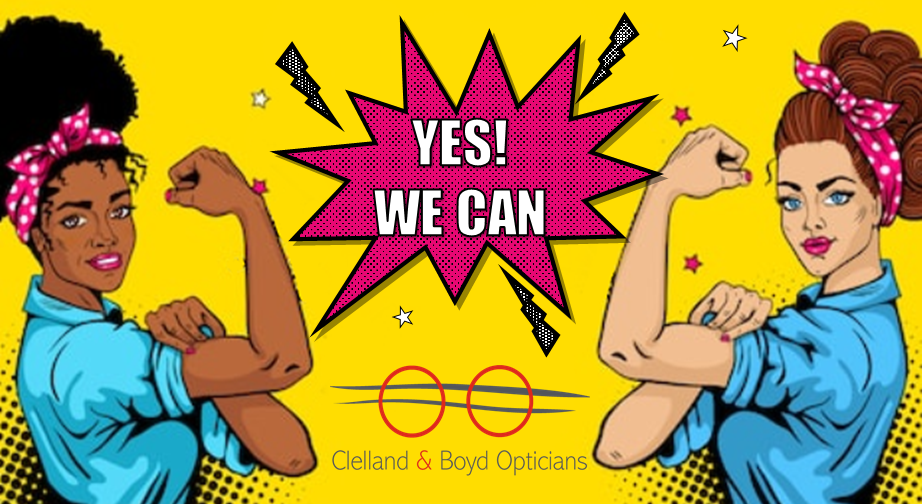 It's been a funny few months with lots of 'no, you can't do this' and 'no, you cant do that' but at Clelland & Boyd we like to say YES.
Finding solutions is the biggest part of our job and our team is very good at it. So, we've perused the government regulations, disregarded media speculation, analysed scientific advice and come up with lots of solutions to keep your visit to us safe and enjoyable.
Some things are still unchanged.
We haven't changed our commitment to getting you the best vision and to looking good and feeling great in your glasses. We'll continue to offer you our unique blend of amazing independent eyewear, outstanding optical expertise and customer service that's personal and makes your day.
At Clelland & Boyd we're proud to be DIFFERENT.
We're not typical opticians. Everything we do is about creating the best possible experience for you.
From our sit-down, guided eyewear selection process that makes finding the right eyewear effortless to our appointment times that are twice the industry average so we can invest our time giving you individual service and advice. We're happy to see fewer people in a day in order to do superior work and It turns out that every single aspect of how we work is as pandemic proof as you can get!
All the advice and social distancing requirements are perfectly aligned with what we already do.
That said, we are also making changes and improvements to look after the health of you and our team.
So here's what we will be doing:
Lovely hand-sanitisation stations have been set up throughout each of our stores for you to use. We have invested in automatic soap and sanitiser dispensers to make it easy for you to keep your hands clean when you come to see us.
Face masks for you and the team - now eyewear will always be the most important accessory for your face. Nothing will change that. Matching frames to faces is our holy grail. Nevertheless for the time being we are going to add a face mask to the list of 'must-have' accessories for the season. When you come into the practice for your appointment we'll gift you a very fetching face mask which you can wear (if you'd like to) and keep. The team will also be sporting a face mask for any portions of your visit where they need to get closer than 2m to you.
Little Extra touches. I mean 'no-touch' extra touches.... sigh, it's a complicated world! We like to build little extras into the Clelland & Boyd experience and while our drinks and reading materials are taking a small break we've ordered some Clelland & Boyd hand sanitisers to give you a memento of your visit instead. The credit card shaped bottle is perfect for keeping in your bag or your pocket and will always be there for you when you need it. Apparently hand sanitiser will be as valuable as bars of gold in the new normal, so this is a significant bonus for taking a trip to the opticians!

Extra cleaning time - being in the area of healthcare we have always had to keep our working environment clean and safe but we've added some extra time onto our appointments to allow for an extra deep clean after each and every visit. Bring your sunglasses so you're not dazzled by how everything sparkles.
Video Eyewear Stylings - Laura and Anthony are getting into the flow of our new virtual Eyewear Styling Consultations, helping clients with the guidance of an eyewear expert via video and delivering a selection of frames for you to try on at home. If you'd like to book one or just know more get in touch and the team will be happy to tell you how it works.

And we'll continue to run a delivery service to keep you safe if you are continuing to self-isolate or shield.
If you feel any changes to your vision, have had any changes to your work setup or feel you need to change your glasses or sunglasses you can now email the team for an appointment:
info@clellandandboyd.com
We can't wait to see you back in practice!